NEW DELHI: Mahendra Singh Dhoni's guidance for young cricketers from behind the stumps is no secret. Be it in India colours or for his state team – Jharkhand – Dhoni's watchful eyes and instructions helped multiple young cricketers.
Sumit Kumar, a young wicketkeeper-batsman from Bokaro in Jharkhand, idolises Dhoni. He has learnt from the former India captain first hand and is eager to walk on the same path as Dhoni.
Sumit, a 25-year-old wicket-keeper batsman, started playing cricket at the age of 10. He was introduced to a coaching centre by his father, who was a mechanic by profession. Sumit had to take a bus or sometimes walk for 7 to 8 kilometres to reach the coaching centre, but such was his passion for the game that it drove him towards his dream of becoming a cricketer. And Dhoni was a constant factor in his life, even then.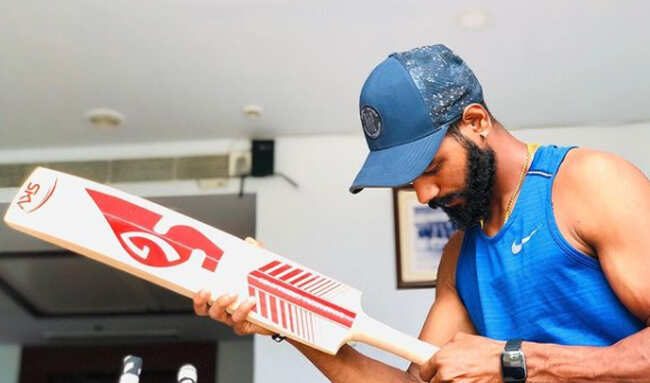 Sumit Kumar (TOI Photo)
"It was not easy initially to take forward my cricketing career but my father was adamant that he wanted to make me a cricketer. He has sacrificed a lot to see me become a cricketer. He always says 'Mahi ki tarah khelna hai' (You have to play like Dhoni). I was also crazy about the game. Initially, I had to walk for 7 to 8 kilometres with a kitbag on my shoulders. When Mahi bhai got into the Indian team, he became my hero. It was a great feeling that someone from Jharkhand has made it to the Indian team. He (Dhoni) has given a lot to Indian cricket and Jharkhand and I want to take his legacy forward. I can't match him (Dhoni), but if I am able to do a fraction of what Mahi bhai did that will be great for me," Sumit told Timesofindia.com in an exclusive interview.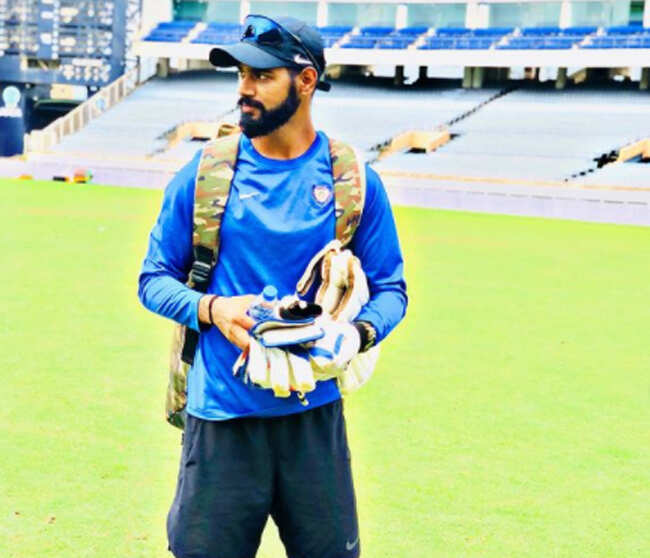 Sumit Kumar (TOI Photo)
"I started playing cricket because of Mahi bhai. Just like most other kids, I was also crazy about cricket. I never thought I would play professional cricket. I was 10 when a couple of people told my father that I play really well and that he should get me admission in an academy. My father did the same. My coach was impressed with the trials and gave me admission. Since then, I haven't looked back. My family supported me a lot," Sumit further said.
Sumit was included in the Jharkhand senior team in 2017. Since he shared the same role as Dhoni – wicketkeeper/batsman – Sumit had a habit of writing his queries on a notepad and asking Dhoni for his tips, whenever Dhoni was available.
Sumit has played 20 first-class, 20 List A and 16 T20 matches for Jharkhand so far. With 584 runs in first-class and 317 runs in List-A cricket, Sumit could become Jharkhand's first-choice wicket-keeper, after Ishan Kishan who has been captaining the state team, got the India nod.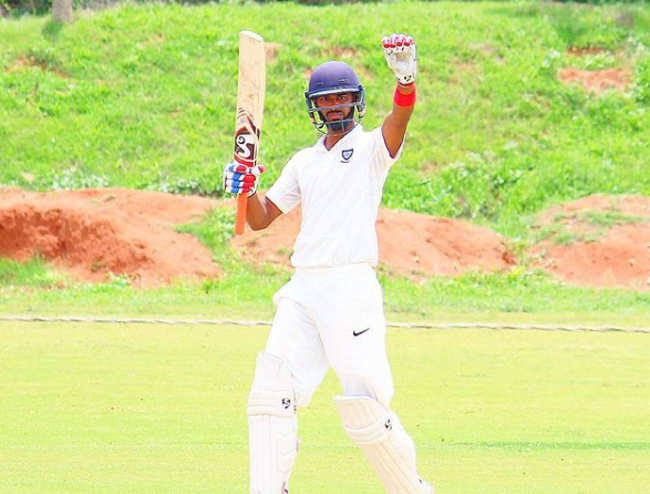 Sumit Kumar (TOI Photo)
"I have been with Jharkhand for six seasons now. I made my Jharkhand debut in 2017. I want to win Syed Mushtaq Ali and Ranji Trophy titles for my state. That's the ultimate dream for now. I am a guy who wants to take it one step at a time. So, I want to excel at the state level and then in the national team. We (Jharkhand) entered the semi-final of the Ranji Trophy but we lost. That was a sad moment for me. I scored a century against Saurashtra last season. That was the maiden century of my first-class career. It was so special. I have played many match-winning knocks, but the knock against Saurashtra will always be special," he further added.
LEARNING FROM DHONI – FIRST HAND
"Mahi bhaia was our mentor during the Ranji Trophy (2017 & 2018). He was with us during the one-dayers too. I can't single out a particular thing that I have learnt from him, there are numerous. Whenever I meet him, I ask him a lot of questions. How to finish an innings, about wicket-keeping, tackling a particular problem and how to handle pressure – these are the things I usually ask him. He has a lot of confidence in me. He always says – 'Sumit, you have the potential, just focus on your game. Today's focus and hard work will be tomorrow's comfort' – this is what he (Dhoni) says. He has shown me the way a number of times," the 25-year-old further told TimesofIndia.com.
MS Dhoni has inspired a whole generation of cricketers. And for budding wicket-keeper batsmen, Dhoni is a big role model. The former India captain was acknowledged to be the best keeper in the business during his international career.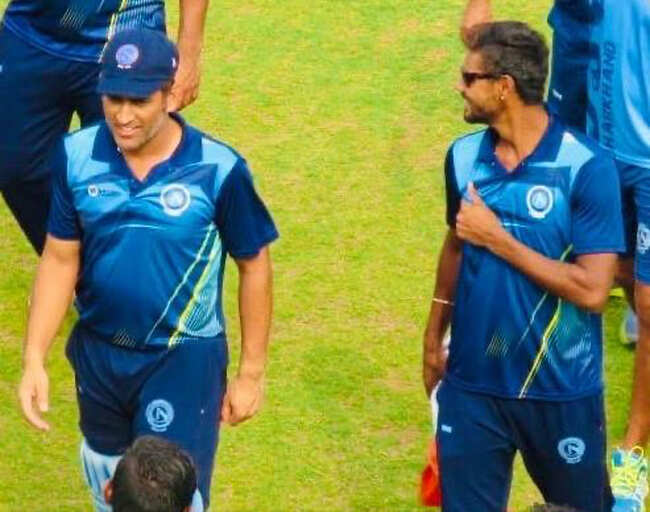 Sumit Kumar and MS Dhoni (TOI Photo)
A wicket-keeper batsman's role is perhaps the toughest in a cricket team. perhaps more than that of an all-rounder's. Any shortcoming in either department (keeping or batting) draws immense criticism. A keeper can be a good batsman, but if his keeping skills aren't upto the mark he will be criticised and vice-versa.
In domestic cricket, Sumit has so far played all his games as a keeper-batsman. His records as a keeper show that he has 54 catches and 3 stumpings in first class cricket and 10 catches and 1 stumping in List-A matches.
The matches Sumit played for Jharkhand, when Dhoni was the team mentor and the practice matches they played together were invaluable for the young cricketer.
"I am grateful that I have shared team space with him (Dhoni, when he was Jharkhand team mentor and also when he practiced with the Jharkhand team). He has always treated me like a younger brother and his guidance has always helped me. Everyone knows that he is a great finisher of the game, but one should also focus on how he builds the game before signing off in style. He has played many match-winning knocks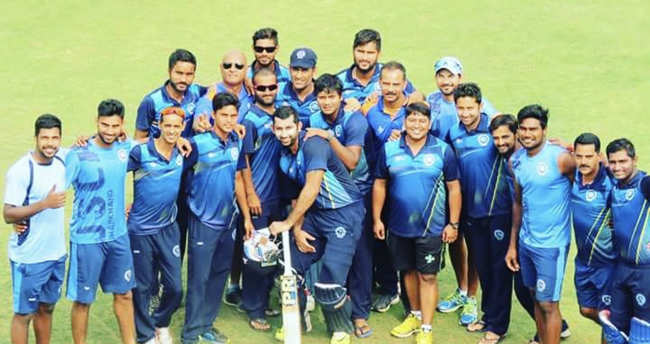 Sumit Kumar and MS Dhoni with other Jharkhand team-mates (TOI Photo)
"If his team needs 15 or 20 runs in an over to win the match, you will see that confidence on his face and that confidence takes the game away from the opponent. He can turn the game on its head. I am also a wicketkeeper-batsman and bat at No. 6 or No. 7 and sometimes at 5. So, there are a lot of similarities between my playing style and Mahi bhai's," Sumit further said.
DHONI'S TIPS FOR SUMIT
There have been many instances when Sumit asked Dhoni for a solution to a problem ahead of a match and they worked in his favour. Be it batting against spinners, concentration during batting, wicket-keeping tips or being ready to bat at any position, Sumit got all his questions answered by the 2011 World Cup-winning skipper.
Sumit went on to describe a few such incidents.
"Ahead of a Ranji Trophy match last season, Mahi bhaiya was with us during the practice session. I asked him about concentration. I asked him because I had a problem. Whenever I used to go out to bat, there were thoughts about performances that used to come to my mind. So, I asked him how to handle this situation. He asked me to sing a song and watch the ball. And, believe me, that formula worked for me. He always told me whenever a bowler bowls, analyse him. He said you should know which delivery he is going to bowl," Sumit explained.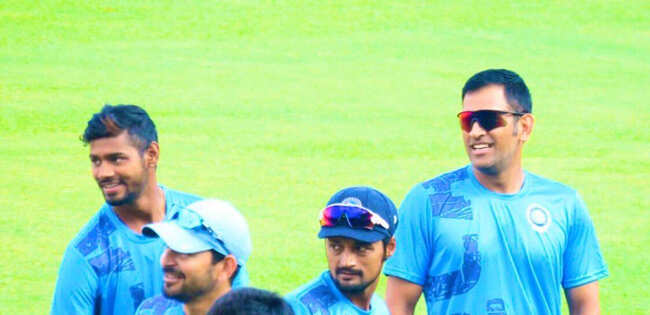 Sumit Kumar and MS Dhoni (TOI Photo)
"There was another incident. The ball isn't visible to a keeper whenever a batsman's bat and pad is in the wicketkeeper's line of vision. This is a major problem for most of the wicketkeepers. I had the same difficulty. I asked him Mahi bhai about the same. He had already observed me. He said whenever a left-handed batsman bats, your right foot moves inwards. He asked me not to move my right foot and be stable. I did the same in my next match and it worked really well for me. I have played many practice matches with him (Dhoni) and spent a lot of time in the dressing room. I can ask him anything," Sumit told TimesofIndia.com.
"I am a middle-order batsman. Once, I got the chance to open the innings. I was so nervous. Mahi bhai was our mentor at that time. He came to me and said when you can score 200 while playing Under-23 and Under-19, why can't you open for the senior team? He told me – 'be ready to bat in any position', Sumit signed off.