VMware today announced the launch of Fusion 13, the latest major update to the Fusion virtualization software. For those unfamiliar with Fusion, it's designed to let Mac users control virtual machines to run non-macOS operating systems like Windows 11.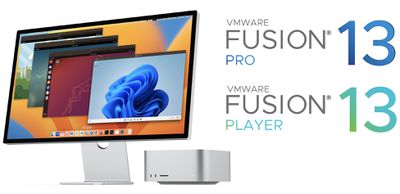 Fusion 13 Pro and Fusion 13 Player are compatible with both Intel Macs and Apple Silicon Macs equipped with M-series chips and provide native support. VMware has been testing Apple silicon support for several months now ahead of the launch of the latest version of Fusion.
With Fusion 13, Intel and Apple Silicon Mac users can access Windows 11 virtual machines. Intel Macs offer full support for Windows 11, while on Apple silicon, VMware says there's a first set of features for Windows 11 on Arm.
VMware Tools offers virtual graphics and networking, with more to come. With certified and signed drivers, Windows 11 looks great and adjusts the resolution to 4K and beyond! Note that Fusion on Apple Silicon must run the Arm variant of Windows 11 and does not support the x86/Intel version of Windows.
Users who need to run traditional win32 and x64 apps can do so via built-in emulation.
Fusion 13 also includes a TPM 2.0 virtual appliance that can be added to any VM, storing its contents in an encrypted portion of the virtual machine's files and providing hardware TPM functionality parity. To support this feature, Fusion 13 uses a high-speed encryption type that encrypts only the parts of the VM necessary to support the TPM appliance for performance and security.
The software supports OpenGL 4.3 in Windows and Linux VMs on Intel and in Linux VMs on Apple silicon.
Fusion 13 Player is free for personal use, and commercial licenses for both versions are available at a 30 percent discount to celebrate the launch. VMware Fusion 13 Player costs $104.30 and VMware Fusion Pro costs $139.30. Upgrades from previous versions are also available at a lower cost.
related stories
VMware Fusion Tech Preview brings Windows 11 to Apple Silicon Macs
VMware announced this week that the latest VMware Fusion update brings Windows 11 support to both Intel and Apple silicon Macs. Available as a free technical preview, the 2H22 version of Fusion finally allows Apple silicon Mac users to download and use Windows on their machines through virtualization. Features include Windows 11 support with 2D GFX and networking, VMtools installation for…
Apple Silicon Mac Pro Details Leak As Testing Increases
According to Bloomberg's Mark Gurman, Apple's first Mac Pro model with silicon chips is now in testing ahead of an expected launch next year. The Mac Pro is one of the last Intel-based Mac models left for sale and the only remaining Mac product line without Apple silicon chip options. An all-new model that finally brings Apple silicon to Apple's top-of-the-line Mac for professionals has…
Apple's Boot Camp gets Precision Touchpad driver update and bug fixes
Apple today released an updated version of Boot Camp, the software that enables the Windows operating system to run on Intel-based Macs. Boot Camp 6.1.19 includes updates to the Precision Touchpad driver, according to Apple's release notes, along with other bug fixes. This is the second Boot Camp update Apple released in the past week, with Boot Camp 6.1.16 released in August…
Discord with native Apple Silicon Support is rolling out now
A version of Discord with native support for Apple silicon Macs is now rolling out to users, almost a year and a half after the first Macs with Apple silicon chips shipped to customers. Until now, Discord users have had to rely on Rosetta 2 technology to run Discord on Apple's latest Macs. While usable, Discord on Rosetta 2, which translates apps made for Intel-based Macs to run on…
Apple updates Boot Camp with WiFi improvements and bug fixes
Apple today released a new version of Boot Camp, the software that allows Windows to run on Intel-based Macs. Boot Camp 6.1.16 is a bug fix update that addresses minor issues and replaces the earlier 6.1.12 update that fixed stability issues with Bluetooth and Wi-Fi drivers. According to the release notes for the update, the software introduces WiFi WPA3 support and fixes a…
Here are all the macOS Ventura features that your Intel Mac doesn't support
Apple's public release of macOS Ventura is expected sometime in October, but given the number of features in macOS Monterey that were limited to Apple silicone Macs, will Intel Mac owners feel left out in the cold again this fall? Thankfully, it doesn't look like that will be the case this time around, as many of the key features in macOS 13 offer full functionality on both Intel and…
Microsoft Teams app gets native Apple Silicon support
Microsoft today announced the debut of a native Microsoft Teams app optimized for Apple Silicon Macs, coming after several months of development. Microsoft Teams is a business communication platform similar to Slack, offering text-based chat, video conferencing, file storage, app integration, and more. The native version of the app will have a "significant…
Parallels Desktop for Mac updated with support for ProMotion displays and M1 Ultra chip
Parallels for Mac today announced Parallels Desktop 18, a new update that brings full support for the ProMotion displays in the 14-inch and 16-inch MacBook Pros, improved performance on the M1 Ultra chip, easier installation of Windows 11, and more. Parallels Desktop 18 is designed to take full advantage of the latest Mac hardware, including the high-performance M1 Ultra Apple silicon chip. With the M1…
Popular stories
iOS 16.2 for iPhone is expected to launch in December with these 8 new features
Apple plans to release iOS 16.2 in December, according to Bloomberg's Mark Gurman and a report on the update enabling 5G support in India. The update remains in beta testing for now, with many new features and changes already discovered. iOS 16.2 introduces a number of new features, including Apple's new whiteboard app Freeform, two new Lock Screen widgets for Sleep and Medication, the…
Testing Apple's new emergency SOS via satellite feature
Apple today officially launched the new Emergency SOS via satellite feature available for the iPhone 14 models, so we thought we'd test it out to see how it works. Subscribe to the MacRumors YouTube channel for more videos. Emergency SOS via satellite is designed to enable users to connect to emergency services when a cellular or Wi-Fi connection is not available, such as when they are not…
Apple will hold Black Friday Shopping Event starting November 25
Apple announced today that it will be holding a special "Apple Shopping Event" between Black Friday, Nov. 25, and Cyber ​​Monday, Nov. 28, where customers are eligible to receive a gift card with the purchase of select products. Eligible products are: iPhone 13, iPhone 13 mini, iPhone 12, iPhone SE: a $50 gift card Second generation AirPods Pro, second generation…
Apple launches revamped iCloud.com website with all-new design
Apple rolled out a new design on iCloud.com today after several weeks of beta testing. The page now has a colorful background with tiles for your Apple ID account and Apple apps like Photos, Mail, iCloud Drive, Calendar, and Notes. There's also a tile with icons for additional apps like Find My, Pages, Numbers, Keynote, and more. The page is customizable, with users choosing…
iPhone 15 Pro is rumored to have a Thunderbolt port with significant advantage over lightning
Apple's next-generation iPhone 15 Pro and iPhone 15 Pro Max will have a USB-C port with support for at least USB 3.2 or Thunderbolt 3, according to analyst Ming-Chi Kuo, which would give the devices a significant speed advantage over existing models . Thunderbolt 3 theoretically offers bandwidth of up to 40 Gbps, while the Lightning connector offers USB 2.0 speeds of up to 480 Mbps on all…