US President Joe Biden has come under scrutiny from many of his critics for his eloquence, with faulty lines or mispronunciations often used to question his competence.
The president was mocked by politicians opponents and social media users earlier this year for appearing to read the word "dot" from a website URL on a teleprompter during a speech at the White House.
While the president has been pictured in the past using "cheat sheets" and prompts to direct his public appearances — a strategy perhaps designed to temper his self-acknowledged tendency to make mistakes — the latest incident has reignited unproven and conspiratorial narratives. .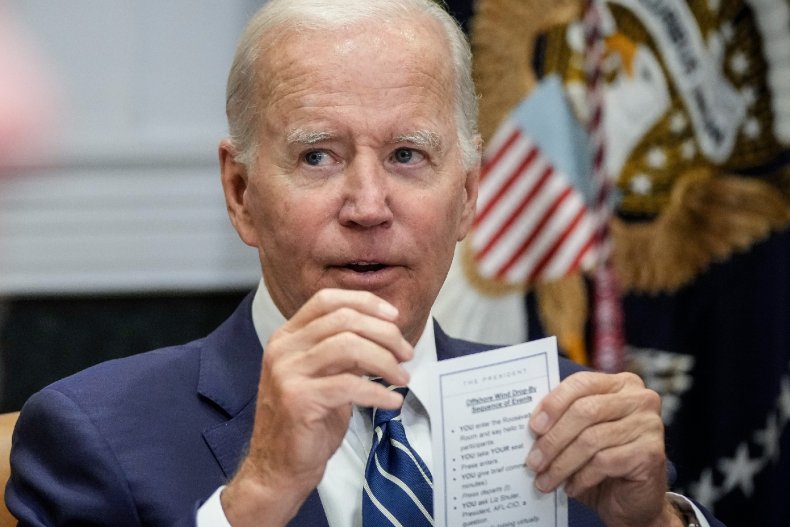 The claim
Several outlets, including the New York Postand prominent social media accounts arrested a photo taken at the G20 summit in Bali, Indonesia, which appeared to show detailed instructions regarding the upcoming meeting.
A zoomed-in image of a leaflet held by Biden shows, among other things, notes that read "YOU will be in the center" and "YOU will provide opening remarks (5 minutes)".
But while some comments were limited to light-hearted banter and satire, others took on a more conspiratorial tone.
"Biden reads his instructions on how to act from his handlers…Note the bold capital "YOU"…," one Twitter user wrote.
A Reddit post, published on November 16, 2022, shows a cropped photo of Biden reading from the instruction page. The post is captioned with claims that the president is "taking orders" from "superiors".
The post read: "Joe Biden is again caught taking orders from his superiors on a piece of paper in big red letters "YOU sit down" and "YOU will make opening remarks."
The facts
Biden's photo was taken during the G20 summit in Bali, where 20 of the world's most economically prosperous nations gathered for a series of talks on global issues.
This year's topics, around the theme of "Recover together, recover stronger", include discussions on climate change, the international energy crisis and digital technology.
A close-up of the photo shows a set of instructions entitled "Opening Remarks for Global Partnership for Infrastructure and Investment G20 Side Event."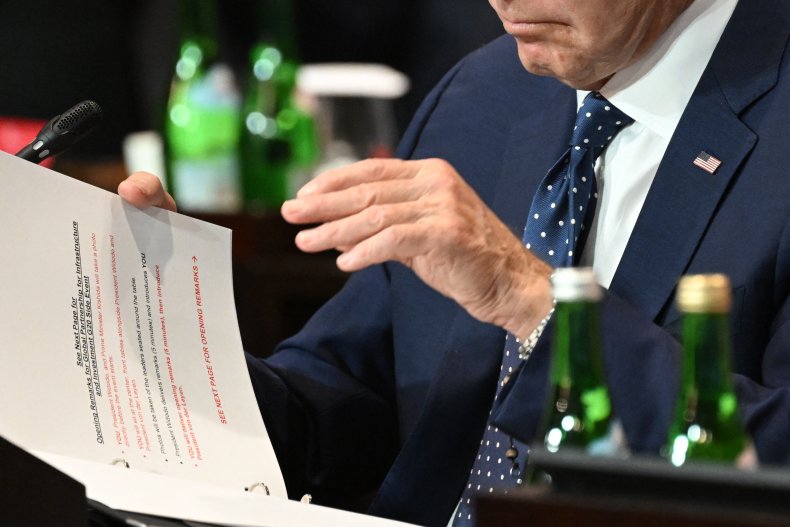 However, the only clues in the photos are when the president should make remarks, when to stand for photos, and where to sit in the conference.
In fact, as the caption to the original states, the directions are contained in a "document outlining the proceedings," though it's not clear if it was put together by Biden staffers or the event organizers (and if it's the last, or all participants received a customized version).
In any case, there is no information in the photo to suggest that he is being told what to do against his will, that he is instructed what to say at the conference, or that he is accompanied by anyone other than himself, his own staff or event runners.
The two-day G20 summit is one of the most high-profile and influential geopolitical conventions in the world, discussing sensitive and thorny issues, with commentary shared by news organizations around the world.
A calendar and set of reminders to ensure smooth protocol, aimed at avoiding faux-pas on the global stage, is a useful precaution for a world leader whose comments and actions are under intense scrutiny on a daily basis.
Other photos taken at the event showed far more instructive talking points and topics for the G20, including comments on the Partnership for Global Infrastructure and Investment (PG-II), a G7 pledged fund that aims to raise $600 billion "to private and public funds over five years to finance the necessary infrastructure in developing countries."
One line read: "You shall make comments demonstrating the progress we have made to date under PG-II."
While this seems to go beyond etiquette guidelines and timings, and invite more speculation, it is not proof of a conspiracy.
For one thing, it seems that these clues were guidelines for the main points of discussion on an agenda prepared in advance by event runners.
In addition, political leaders are often given speeches and materials that they did not write themselves, or that they necessarily had direct personal supervision of beforehand. From JFK to Obama, US presidents have notes, cue cards, and other visual aids to get through difficult speeches or meetings.
In 2018, former President Donald Trump was photographed with a similar personalized set of instructions, saying he listened in a face-to-face meeting with students and parents affected by school shootings.
The photo, taken by the Associated Press, shows a list of questions, including "What would you like me to know about your experience," followed by another prompt that reads "I hear you."
That's what a former White House counsel said, who declined to be named News week that notes like Biden's "were very common, especially at large foreign rallies, as they are closely choreographed with the other attendees".
So while Biden has been mocked before for similar notes or "cheat sheets" that tell him where to sit and speak, these are not in themselves evidence that he is following directions from some higher, unnamed powers, let alone in the realm of of policy.
Earlier this year, a number of media outlets mocked the president for ostensibly reading instructions from a teleprompter, when in fact he skipped one word that was part of his speech.
News week has contacted the White House for comment.
The pronounciation
Needs context.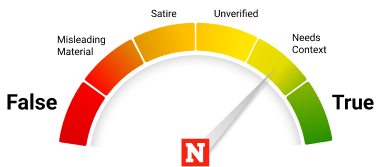 While the picture of Biden's meeting protocol is real, the conspiratorial stories that are spreading around the image are completely unproven or misleading.
The photo does not constitute evidence that the president is following orders from others. The "instructions" are limited to the protocol of the event and do not seem to include more detailed speech or comments.
They are simply helpful directions, likely pre-written by himself or his staff and event organizers, designed to ensure smooth protocol and avoid awkward situations while attending one of the world's most closely monitored conferences.
FACT CHECK BY Newsweek's Fact Check team